Is the Outdoor Rainfall Shower for you?
SLEEK AND CONTEMPORARY DESIGN
Rinsing off after your Spa or Sauna session has never looked this good! Our Alpine Shower is here to provide all your pre or post-relaxation needs.

Featuring a sleek and contemporary design, this shower provides water coverage wider and longer than that of standard shower heads to offer an efficient and soothing experience for users.

Constructed from Marine Grade 316 Stainless Steel, you don't have to worry about this Shower degrading over time, it is more than capable of withstanding any elements thrown at it.

For a couple of intelligent features, we've added non-slip feet on the Shower's base, along with rubber corner guards which significantly reduce the risk of stubbing your toes or cutting your feet.

With an additional tap lower down on the Shower, you have a perfect place to fill up your water bottle in between stints in your Sauna or Spa Pool without having to saturate the carpet on your way inside.

(note: only compatible with cold water)
Nationwide Delivery Options
Ask us for more details.

60 Day Satisfaction Guarantee
Buy with confidence.

Premium Warranty
Market leading warranties.

12 Months Interest Free
Relax now, pay later.
Outdoor Shower
Dimensions
Shower Design

Sleek Contemporary Design

Shower Material

Marine Grade 316 Stainless Steel

Function

Adjustable Rain & Waterfall Flow

Set Up

Simple Set-Up
Construction

Sturdy Wooden Base

Water Flow Rate

7.5L/m

Dimensions

H:2150 x W:620 x D:800mm

Dry Weight

18.5kg

Warranty

2 Years
The Benefits of Hot/Cold Therapy
Moving straight from the heat exposure of a Spa or Sauna to the cold exposure of an outdoor shower, users can gain a wide variety of benefits. These include improving blood circulation, expedited muscle recovery, as well as a reduction of inflammation, hypertension, and arthritic symptoms.
Rainfall design
Our shower's unique rainfall design employs wider and longer water coverage than traditional shower heads. This caters for efficiency after a sleep-inducing Spa or Sauna session, this shower head will let you quickly rinse your whole body so you can get to the warmth as soon as possible.
Handy Tap
Our shower's additional tap down below allows you to fill your water bottle without even going inside. This is an ideal feature for sauna users who don't want to take their sweat inside, and are looking to get back into the sauna. It's also handy for rinsing off feet prior to your Spa session to avoid unwanted substances entering your water.
Sturdy Wooden Base
Your sturdy wooden base features rubber anti-slip footings to ensure you can stand nice and secure when enjoying a shower, while rubber corner guards add yet another layer of safety by helping you avoid stubbing your toes.
Maximise your Relaxation Routine
Having a quick shower before your Spa is a great idea to get rid of any substances on your skin like moisturisers, soaps, or sweat – this will stop these substances entering your Spa Pool water which can make it go foamy and disrupt your chemical balance.
Having a cold shower straight after your sauna will rid your skin of sweat, while also kickstarting the process of cooling your body's core temperature, which supports your transition to a deep, restful sleep.
Simple Set Up
You won't have any trouble getting your shower and up and running. It comes flat-packed in two boxes that weigh approximately 10 kilograms each. With set-up instructions on-hand, setting up should take one person approximately 30 minutes.
Premium Warranty
Every Alpine Shower is backed by an impressive warranty to give you peace of mind.
2 Years
Shower Warranty
Frequently asked questions
ALL YOU NEED TO KNOW ABOUT OUR OUTDOOR SHOWERS
Can I use this in my Spa/Sauna routine?
Absolutely! We recommend installing your shower near your Spa or Sauna for ultimate convenience.
What material is the Shower made from?
The shower is constructed out of 316 Marine Grade Stainless Steel which is incredibly durable and capable of standing up to the elements.
How tall is the Shower?
The shower itself is 2.1 metres tall to cater for all shapes and sizes.
How is the Shower delivered?
It comes flat-packed in two boxes, which are approximately 10kg each.
Is it easy to set up?
The shower requires very minor assembly upon delivery. With the instructions on hand, the assembly should take one person approximately 30 minutes.
What are the benefits of having a cold shower after my Spa or Sauna?
Benefits of mixing cold exposure with heat exposure include improved blood circulation, expedited muscle recovery, reduced inflammation, hypertension, and arthritic symptoms.
The Alpine Promise
We stand behind all of our products.
NZ's Largest Spa Pool Retailer
With over 30,000 happy customers we are New Zealand's Largest Spa Pool Retailer.
We have the largest Spa Pool showrooms in New Zealand, so you're sure to find a model perfect for you!
Feel free to step inside one of our showrooms in Auckland or Christchurch to see the products for yourself. Take a step inside the tubs themselves (no togs required) to take a closer look and test out the seating and layout and feel fully convinced of your choice. We appreciate it can be a big decision and we're here to help you find the right one!
We have great delivery options
*
Can we deliver to you? Enquire now for information on delivery depots, manpower, driveway, hiab and rural deliveries.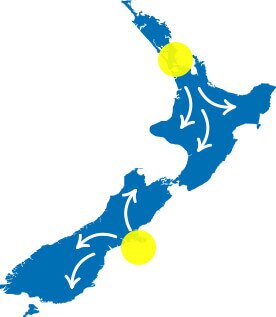 We guarantee you'll be impressed.
Literally. We love our Spas and we know you will too. Within 60 days if you're not satisfied with your Spa Pool, send it back and we will provide a full refund!
Learn more
You're going to love these
Talk to Us
Christchurch
Showroom Open
Mon – Fri: 9am – 5pm
Sat– Sun: 10am – 5pm